The Good Lord Bird: What the Must Watch reviewers think
Every week, the Must Watch podcasters review the biggest TV and streaming shows.
This week, Hayley Campbell and Scott Bryan share their thoughts on The Good Lord Bird on Sky Atlantic.
Based on the novel by James McBride, it stars as the abolitionist John Brown, who led a crew of anti-slavery soldiers.
Have you been watching it? What did you think? Leave your comments below...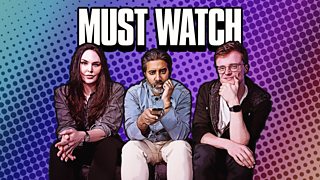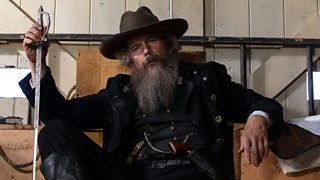 Photo: Showtime/ CBS/ William Gray
Hayley says: "A comedic take on an interesting point in history"
"I kind of liked it. It's funny in a Quentin Tarantino or Coen brothers sort of way, where it focuses on the absurdity and little domestic details of these strange situations. It's hugely violent but not in a way that glamorises it. The violence is always an act of madness that our hero, Onion, winces at.
"The real John Brown (who's played by Ethan Hawke) was extremely violent. In real life he tried to arm slaves to fight with him but they sort of stood back and thought he was crazy and, in this, he does look crazy. He was the first person to be executed for treason in the States and his trial escalated tensions that led to the Civil War. It's a comedic take on an interesting point in history."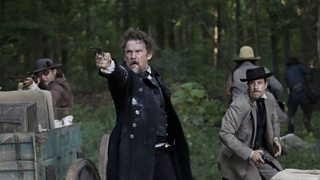 Photo: Showtime/ CBS/ William Gray
Scott says: "There's not much of an introduction"
"I found it impenetrable. I had no idea what was going on. It just goes straight in, there's not much of an introduction. I knew a bit about John Brown, but not that much, and this show goes right into the heart of the matter.
"You shouldn't have to Google what's going on within the first five minutes of a show to understand the context. I found this to be so hard I re-watched the opening about three times and I still didn't get it!"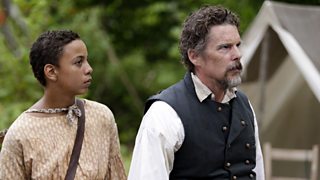 Photo: Showtime/ CBS/ William Gray
The Good Lord Bird is on Now TV and Sky On Demand from 18th November 2020.
Must Watch is released as a podcast every Monday evening and is available on the free BBC Sounds app.
This week, the team speak to Vick Hope about I'm A Celebrity…Get Me Out of Here and its new spin off The Daily Drop. They also review Small Axe on BBC One.