The Loudest Voice: What the Must Watch Reviewers think
Must Watch reviewers Scott Bryan and Hayley Campbell share their thoughts on The Loudest Voice.
The new series is on Sky Atlantic and available on demand on NowTV.
Have you watched it? What did you think? Leave your comments below.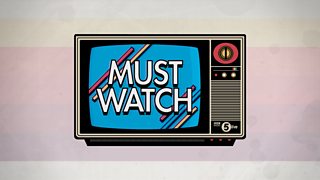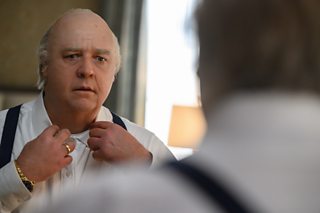 (Copyright: Showtime)
Hayley says: "I wanted more than a bald wig"
"Russell Crowe, Sienna Miller and Naomi Watts all star in this - though everyone is in such thick make-up it's difficult to tell who they are.
"I became so distracted by the prosthetics - Rupert Murdoch's chin is a huge character in this.
"It feels like Russell Crowe is gunning for an Emmy by wearing a fat-suit.
"My problem with it is: this is the channel President Trump watches; this is the start of a TV channel that would sway a presidency, with votes and with the agenda... he says explicitly 'give the people a positive message with a conservative bent' - which implies he was changing it... and we don't find out about the scale of its impact.
"It seems to be a retelling of what happened, as opposed to something like American Crime Story where Ryan Murphy places a crime in the wider context of what was happening at the time and scrutinises history. [Ryan Murphy] colours in the context of what we missed at the time and I love that - and I wanted them to do more of that in this show.
"This felt more like a show about what you can do with make-up. With all the great documentaries around, I wanted more than a bald wig."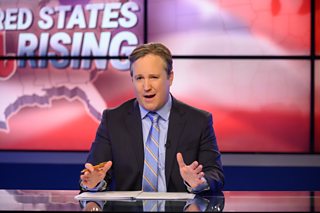 (Copyright: Showtime)
Scott says: "Give it a go and ride the wave"
"I'm quite relieved you don't feel any sympathy for Roger Ailes' in this.
"You do get a sense of where the paranoia of the tabloid world comes from. The failure of this is that it probably focuses too much on Roger Ailes and his character and you don't see the impact of Fox News on discourse and society more widely.
"Because American Crime Story has been around for several years, I think this feels like it's not as good.
"I would say give it a go and ride the wave."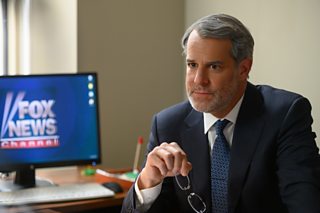 (Copyright: Showtime)