Grayson's Art Club: The Exhibition: What the Must Watch reviewers think
Every week, the Must Watch podcasters review the biggest TV and streaming shows.
This week, Hayley Campbell and Scott Bryan share their thoughts on 'Grayson's Art Club: The Exhibition.'
After Grayson and his wife Philippa attempted to bring the nation together through art in the first coronavirus lockdown, this special episode of 'Grayson's Art Club' gives viewers a sneak peek at the curation and development of the 'Art Club Exhibition' which is set to open in the heart of Manchester. Grayson meets some the public participants who had their entries selected.
Have you been watching it? What did you think? Leave your comments below...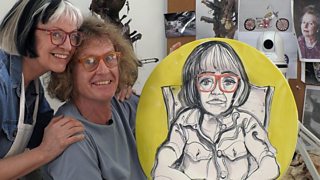 (CREDIT: 2020 Andrew P Brooks/Channel 4)
Scott says: "Make sure you watch this show"
"Grayson Perry is a phenomenal broadcaster and this is a great Channel 4 show. Art Club was one of the best shows of the first lockdown, simply because it gave you hope.
"In the original series, he gave viewers an artistic theme to work on and the following week he celebrated some of the artwork that was sent in. It could be a drawing or a sculpture, but it also could be rather abstract. One of his favourites of the whole series was a painting of some bins outside his property, simply because the painting reflected our collective mundane experience of being inside for so much of the year.
"I particularly enjoyed how, throughout the show and this one-off special, he challenges the view that art is only for a certain section of society, or that you need to have training to be an artist. He also argues passionately about the importance of art, its importance in our culture and how making art can benefit our own mental health.
"This exhibition special is also insightful because he shows us how galleries put exhibitions together. From how they choose what artwork goes where, to how they choose the words that are shown next to them. I never realised the amount of effort that goes into an exhibition. Make sure you watch this television show. You won't regret it."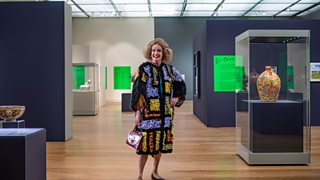 (CREDIT: 2020 Andrew P Brooks/Channel 4)
Hayley says: "One of the most unpretentious art-related things I have ever seen"
"I thought this was completely charming. It's celebrating madness, oddness and also the regular mundane lives that everyone has been forced to live suddenly. I like how it's a record of how people coped, and also that it's celebrating artistic intent and expression without critiquing people on their lack of training or in some cases even talent. It's just focusing on the fact that they were trying to say something, record a moment in time and tell you what it was like to live it.
"I didn't tune in for the original 'Art Club' so I'm coming into this brand new. I loved watching Grayson Perry noticing people who might not ordinarily be noticed. People who are in their houses with either physical or mental disabilities, people who are busy working on front lines behind a mask. It's looking at people who don't ordinarily get looked at. It's also one of the most unpretentious art-related things I have ever seen. I watch a lot of pretentious documentaries and this is just so unselfconscious and so un-TV-like. It felt raw and filter-less."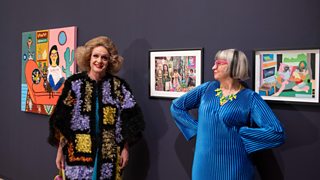 (CREDIT: 2020 Andrew P Brooks/Channel 4)
Grayson's Art Club: The Exhibition is available on All 4 from 4th December.
Must Watch is released as a podcast every Monday evening on the free BBC Sounds app (and all other good podcast providers).
This week, the team also review Michael McIntyre's 'The Wheel' on BBC One and 'Into the Night' on Netflix.