Directions and transport
Do you know how to talk about different types of transport and ask for directions in
Irish
? Learn some helpful words and phrases and test yourself on others you may already know!
Taisteal agus modhanna taistil
Travel and modes of transport
Ar thaistil tú ar ...... riamh?
Thaistil mé ar bhád.
Níor thaistil mé ar eitleán.
Cén dóigh a dtagann tú ar scoil gach lá?
Tagaim ar scoil gach lá ar bhus.
Tagaim ar scoil sa charr.
Glacaim síob ó mo mhamaí.
Siúlaim ar scoil.
Cad é mar a thaisteal sibh thar lear?
Thiomáin Daidí/Mamaí.
Thaistil muid ar...
Have you ever travelled by ..... before?
I've travelled by boat.
I haven't travelled by aeroplane.
How do you come to school every day?
I come to school every day by bus.
I come to school by car.
I get a lift from my mum.
I walk to school.
How did you travel abroad?
Mum/Dad drove.
We travelled on/by...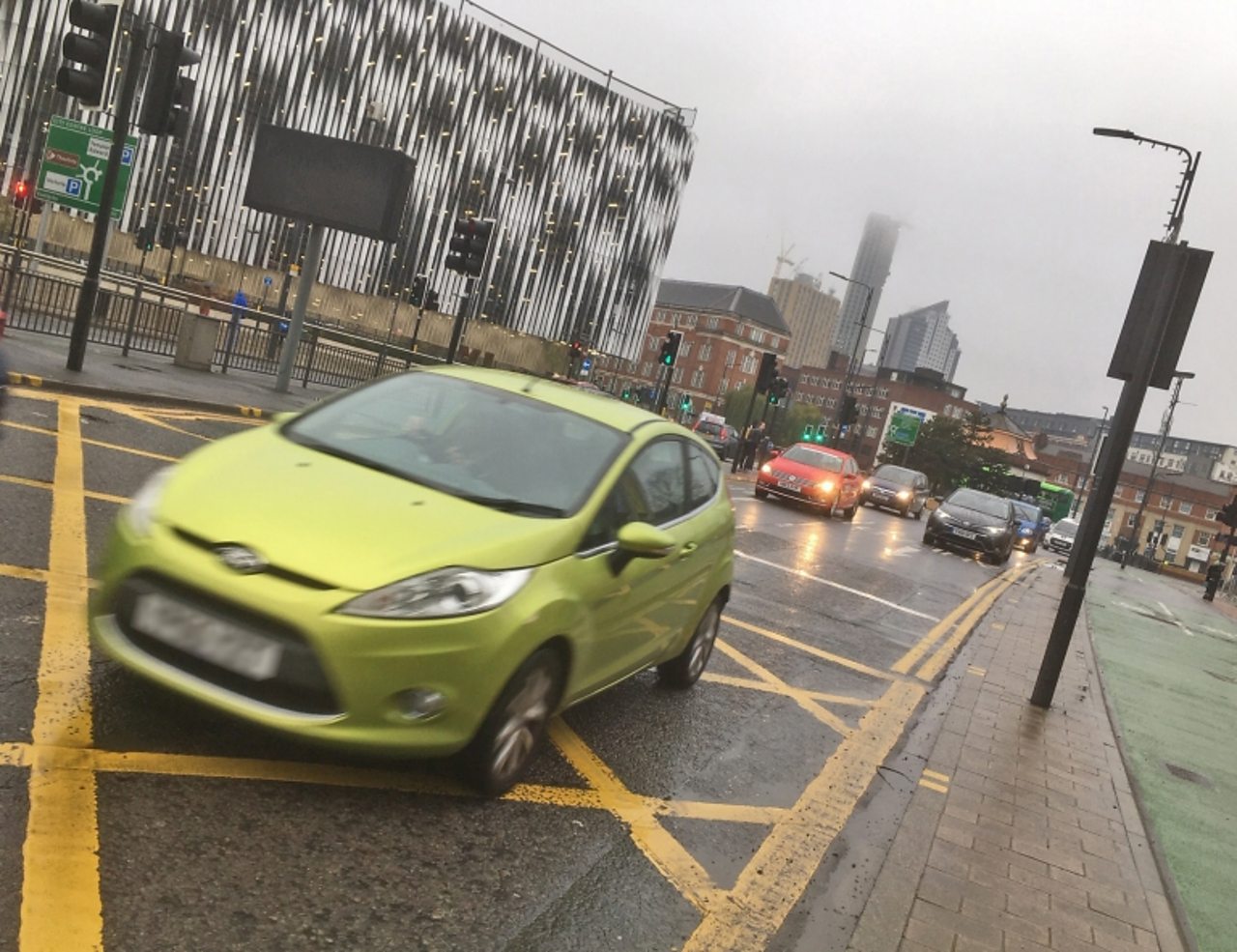 Cá bhfuil an/na...
Cá bhfuil mé?
Cá bhfuil tú/muid?
Gabh mo léithscéal. Tá mé caillte.
Níl a fhios agam cá bhfuil mé.
An dtig leat cuidiú liom?
Téigh...
Glac...
Gabh siar...
Siúil...
Tiontaigh ar chlé / ar dheis.
Níl an siopa i bhfad uainn.
Go raibh maith agat!
Abair é sin arís, le do thoil?
An bhfuil sé sin ceart?
Tuigim / Ní thuigim.
Where is the...
Where am I?
Where are you / we?
Excuse me. I am lost.
I don't know where I am.
Can you help me?
Go...
Take...
Go back...
Walk...
Turn on the left / on the right.
The shop isn't far from here.
Thank you!
Repeat it, please?
Is that right?
I understand. / I don't understand.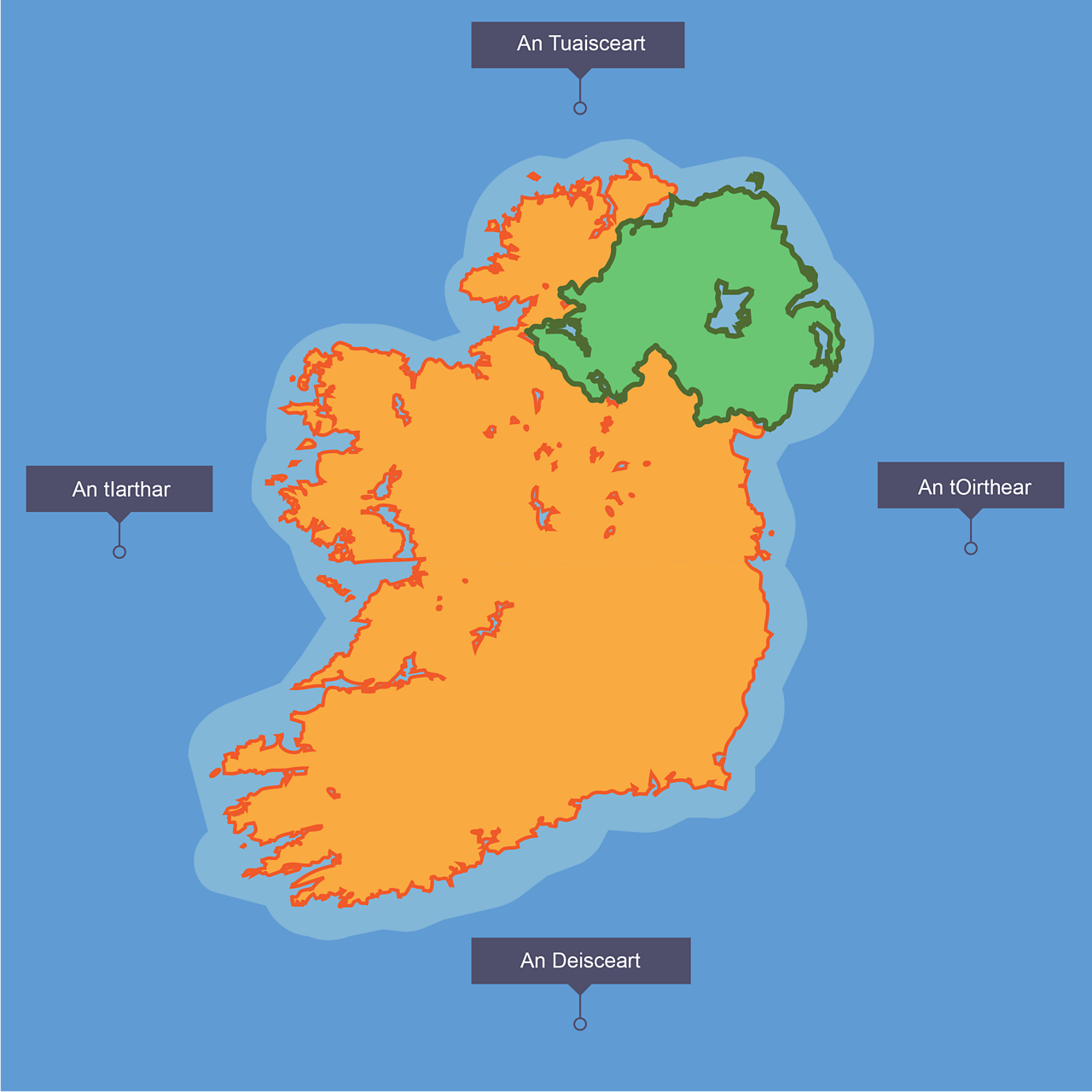 Irish

English

sa tuaisceart

in the north

sa deisceart

in the south

san oirthear

in the east

san iarthar

in the west

ar chlé

on the left

ar dheis

on the right

os comhair

in front of

/

opposite to

taobh thiar de

/

ar chúl

behind

cóngarach do

/

gar do

near (to)

i bhfad ó

far from

in aice le

next to

/

beside

áit éigin

somewhere

an lár

the centre

i lár

in the centre

anseo

here

ansin

there

gach áit

everywhere

ón taobh eile

from the other side

thall ansin

over there
Irish

English

caill

the verb

lose

,

miss

cuardaigh

the verb

look for

,

search

glac

the verb

take

tiontaigh

the verb

turn

tiomáin

the verb

drive

siúil

the verb

walk

éirigh in airde

the verb

take off

(i.e. a flight)

faigh

the verb

get

aimsigh

the verb

find

lean

the verb

continue

,

follow

páirceáil

the verb

park

taistil

the verb

travel