Alexander III ruled Scotland from 1249 to 1286. During that time he took control of the Western Isles and oversaw an increase in agriculture and trade for Scotland. His rein saw a stable period in Scotland's history. But his death plunged the country into a succession crisis.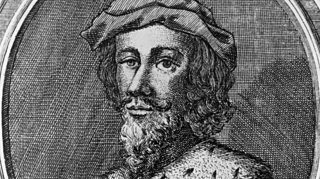 In March 1286, Alexander was travelling from Edinburgh to Fife when he became separated from his advisers during a storm. The next day, he was found dead, apparently having fallen from his horse. He left no immediate heir.
Alexander's daughter and two sons had died before him. His second wife, Queen Yolande was pregnant, but lost the child.
As a result, the Scottish nobles agreed to the coronation of Alexander's granddaughter Margaret, the Maid of Norway. However, this choice was not a perfect solution:
Margaret was only three years old so would not be able to rule on her own

whoever was appointed as regent might try to take control of Scotland

as a female, there was doubt that she could lead troops in battle

if she went on to marry a foreigner, Scotland could fall under the control of another country

if she married a Scottish noble - it could cause unrest

she lived in Norway so would find it difficult to rule Scotland

child mortality was high at the time so it was possible that she would not see adulthood