Classification
Linnaean system of classification
Living organisms are classified into groups depending on their structure and characteristics. This system was developed in the eighteenth century by Carl Linnaeus.
The classification of species allows the subdivision of living organisms into smaller and more specialised groups.
Kingdoms
The first division of living things in the classification system is to put them into one of five kingdoms.
The five kingdoms are:
animals (all multicellular animals)

plants (all green plants)

fungi (moulds, mushrooms, yeast)

protists (

Amoeba

,

Chlorella

and

Plasmodium

)

prokaryotes (bacteria, blue-green algae)
Further divisions
Kingdoms can be divided into smaller groups, ranked below in order of size:
As an example, the complete breakdown of the classification of lions:
kingdom - Animalia (animal)

phylum - Chordata (vertebrate)

class - Mammalia (mammal)

order - Carnivora (carnivore)

family - Felidae (cat)

genus -

Panthera

(big cat)

species -

leo

(lion)
Note that genus is given an upper case letter, the species, lower. Biologists write the genus and species names in italics or underline them.
The genus, Panthera, also has four other living species:
Panthera onca - the jaguar
Panthera pardus - the leopard
Panthera tigris - the tiger
Panthea uncia - the snow leopard
There are many ways to remember Linnaeus' system of classification, for example using the mnemonic:
Kids prefer candy over fresh green salad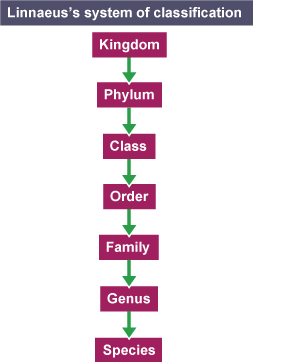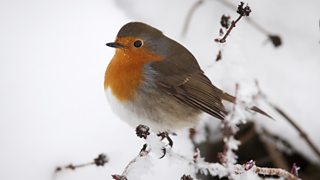 The binomial system of naming species uses Latin words. Each name has two parts, the genus and the species. For example, human beings belong to the genus Homo, and our species is sapiens - so the scientific name is Homo sapiens.
The binomial system is important because it allows scientists to accurately identify individual species. Common names, or local names for species can cause confusion. For example, in Europe, the 'robin' is Erithacus rubecula. It is much smaller than the bird called the 'robin' in America, which is Turdus migratorius, and belongs to a different genus.
The grouping of families was added to allow the large number of new species to be included in this system. Linnaeus' original ideas have been adapted, but continued to be accepted and as new species are identified they can be fitted into the current classification system.
As more scientific equipment, such as powerful microscopes, became available, scientists were able to examine organisms in more detail and note important features that could be used to group them or separate them. An increase in our knowledge and understanding of evolution has also helped to improve the classification of organisms.
Today, DNA analysis has led to improvements in classification and an increased understanding of evolutionary relationships.