Gun crime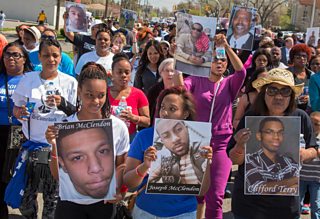 In the USA, there were more than 11,000 deaths as a result of murder or manslaughter involving a firearm in 2016. The country has the highest rate of murder or manslaughter by firearm in the developed world.
About 40% of Americans say they own a gun or live in a household with one, (Pew Research Center, 2017 survey), and the rate of murder or manslaughter by firearm is the highest in the developed world.
There have been more than 90 mass shootings in the US since 1982, according to investigative magazine Mother Jones. Mass shootings in recent years include:
Parkland, Florida, 2018 - 17 killed

Sutherland Springs, Texas, 2017 - 26 killed

Las Vegas, 2017 - 58 killed

Orlando, 2016 - 49 killed
However, the overall number of people killed in mass shootings each year represents only a tiny percentage of the total number.
In 2015 there were 9,778 gun-related homicides (Source: FBI Uniform Crime Report) in the USA. Of these deaths, 475 people (less than five percent) were killed as a result of the 372 recorded mass shootings that year.
Although there is not an official definition of what a mass shooting is, the United States' Congressional Research Service defines a mass shooting as single incident where four or more people are killed indiscriminately.
Who supports gun control?
A significant majority of Americans oppose a ban on handguns (71 per cent). But:
a majority of Americans say they are dissatisfied with US gun laws and policies (59 per cent)

a majority think that laws on the sale of guns should be made more strict (60 per cent)
(source: Gallop poll, October 2017)
Who opposes gun control?
The National Rifle Association (NRA) campaigns against all forms of gun control in the US and argues that more guns make the country safer.
It is among the most powerful special interest lobby groups in the US, with a substantial budget to influence members of Congress on gun policy.
In total about one in five US gun owners say they are members of the NRA - and it has especially widespread support from Republican-leaning gun owners, according to Pew Research.
Approaches to gun control
Efforts to tackle gun crime include ending the freeze on funding for gun violence research.
Control of assault weapons
Military-style assault-style weapons have been blamed for some major mass shootings such as in an Orlando nightclub and at the Sandy Hook School in Connecticut.
These weapons were totally restricted for a decade until 2004.
Seven US states and the District of Colombia have now banned assault-style weapons. (source: Law Center to Prevent Gun Violence).
However most murders caused by guns involve handguns, according to FBI data. In 2016, there were 11,004 gun-related homicides. At least 7,105 of these were caused by handguns.
President Obama
In 2016, President Obama announced a series of executive actions aimed at reducing gun violence. These included tougher restrictions on gun purchases, such as:
ensuring all firearm sellers are licensed

enforced background checks
President Obama struggled to get any new gun control laws onto the statute books, because of Republican opposition. In early 2017 the US Senate blocked a regulation which proposed tightened gun checks on buyers suffering from mental illness.
President Trump
After the Parkland, Florida shooting in February 2018, President Trump:
called for the age limit on purchasing rifles to be raised

backed legislation from 2013 to introduce widespread background checks on purchases
Following opposition from the NRA, President Trump abandoned this promise. Instead he has taken up the NRA's suggestion of supporting arming teachers and making small improvements to the background check system.