Jean is the mother of Chris, and John Guthrie's wife.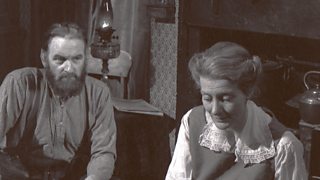 She poisons herself when faced with the prospect of another pregnancy.
Happy, simple nature
Described as sweet and blithe as a child, she ended her formal education at nine, and was perfectly contented working on a farm scaring birds. She is quiet and friendly to everyone, loon or laird, and loving to her children.
Anti-intellectual
She actively discourages Chris from academic work, there are better things than your books or studies. She disagrees with John over the value of education, take care her head doesn't soften with lessons and dirt.
Lover of the land
Chris believes her practical side comes from her Murdoch ancestry. Jean tells her the most important thing in life is the countryside.
Fragile
Although her marriage to John Guthrie was a love match, she is worn down by his sexual demands. She goes grey in the face when Chris asks her how to cope with sex. She confesses, I cannot tell you a thing or advise you a thing, my quean.