Ewan marries Chris, but dies only a few years later in World War One, having been shot as a deserter.
An incomer
He is described as a dour young devil of a Highlandman. Ewan is regarded with some suspicion, even by Will who tells Chris that Ewan is Highland and coarse. We are not told why he has left the Highlands, or anything about his background. He is thus always rather enigmatic both to the other characters and the reader.
The fact he has moved location suggests a degree of initiative. Although he is already a foreman on the farm, Upperhill, where he works, he is very young. We are not told his exact age, but at his death Chae describes him as "no more than a young lad still."
Lover of the land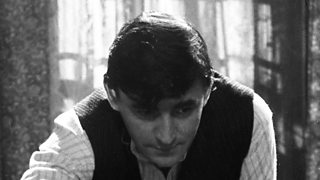 In the Prelude, Ewan is described as an awful good worker, the highest praise for an inhabitant of Kinraddie. Folk said he could smell the weather, and had fair the land in his bones. When he takes over Blawearie after his marriage to Chris he buys a brave new binder and transforms the farm so it is hardly recognisable as the one John Guthrie slaved over.
Dour
Ewan is quiet and taciturn, and sometimes boorish. He is rude to Mrs Gordon, his employer. When her son is beaten up and she rebukes him for not intervening he retorts that I was fee'd as the foreman here, not as the nursemaid. He is described as an impudent brute, calm as you please. His initial wooing of Chris is comic as he is so inarticulate.
Highly sexed
Like Guthrie, Ewan is highly sexed. He is gossiped about for having had sex with 'old' Sarah Sinclair in the larch wood at Upperhill. Again like John Guthrie, a cat image is often applied to Ewan, implying his physicality – stepping softly, like father, like a limber, soft-stepping cat.
Although the gossips predict he will not be faithful – coarse among the queans, he was – he settles happily to domestic life on marrying Chris. The prophecy comes true only due to the disruption caused by the First World War as it emerges Ewan has been unfaithful while at the training camp which brutalises him.
Quick-tempered
Another similarity to John Guthrie is his temper. He flares up when Chris questions him about Sarah Sinclair, he glowered at her, the great black cat, so sleeked and quick to anger. He gets into a fight with the other farm workers on the eve of his wedding.
He hits Chris when she reminds him he brought no money to the marriage, but this is due to his highland pride, another characteristic he shares with John Guthrie. Ewan had been reluctant to let Chris subsidise their marriage. Marriage mellows him, but his darker side re-emerges when he is upset by the whispering campaign directed at pro-Germans and he turns against Chris in his humiliation.
Anti-intellectual
Ewan disappoints Chris in not being able to be one in the spirit with her, as the best man at their wedding predicted. Ewan is unimaginative and not academic. In Dunnottar Castle he is wearied, and he refers to Edzell Castle as a rickle of stones. When Chris ponders the idea of a realm of the dead, Ewan is simply puzzled. Chris is disappointed – once she'd thought there wouldn't be a thing they wouldn't understand together.
Vulnerable
When Ewan first visits Chris, she notices the white skin at his neck where his tan ends. This is symbolic of his inner vulnerability. At their wedding, Ewan is very nervous – she knew him more frightened than she was herself.
He is sensitive to the whispering campaign against men who have not joined up, a weakness which costs him his marriage and ultimately his life. When he is removed from the land, he is completely disorientated.
Honourable and courageous
Although Ewan is a volatile character, he has many fine characteristics. He supports Chris tactfully at her father's funeral, showing a growing maturity, and despite the crassness of the stolen kiss after the threshing supper, he respects her wish to wait until they are married before sleeping together.
He is a devoted husband and father to young Ewan. He shows great courage and dignity in the face of death by firing squad. Chae describes him as quiet and calm as he reminisces about Blawearie and his love for Chris.