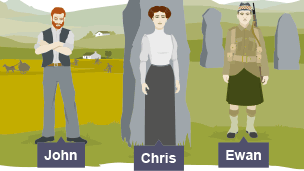 Chris is the main character in the story. We follow her life for around nine years, beginning at the age of 15. During this time she experiences adolescence, marriage, childbirth and bereavement. She has admirable qualities including inner strength and humour and realistically develops as a person, making her a rounded, complex and memorable character.
Two Chrises
Chris is torn between two opposing aspects of her character – the 'English Chris', who is intellectual and aspires to become a teacher – and the 'Scottish Chris' who is practical and loves the land.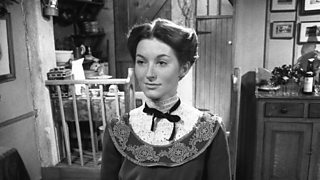 Chris is gifted academically and loves to escape into the 'magic land' of books. However, she feels an instinctive closeness to the land and is equally often enchanted by its beauty.
Sexuality
Chris has a healthy attitude to sex and falls passionately in love with Ewan Tavendale. At various points she calmly contemplates her naked body. She feels neither the guilt which torments her father nor the sniggering embarrassment of most of the villagers.
Resilient
Chris is a strong character. She sustains many changes to her life, begining with her being uprooted from Cairndhu and brought to the harsher climate of Blawearie at the age of 15. Thereafter, she has to survive a pattern of desertions and betrayals:
her mother's suicide

her friend Marget's departure

Will's emigration

her father's death

the loss of Ewan, Long Rob and Chae Strachan in the war
Confident and well-balanced
Chris is happy and contented as a child. She despises the snobbish teachers at the college in Duncairn who give special treatment to the 'gentry'. She has a warm and open relationship with her brother Will and they confide in one another. At her wedding, she is less nervous than Ewan and calms him. She has the maturity to forgive both John Guthrie and Ewan for their ill treatment of her.
Independent
Chris behaves as she thinks right, and is not easily influenced. She attends her father's burial, although at that time it was thought not decent for a quean [girl].
When gossip starts about her and Ewan, Chris didn't care, and when the lawyer is shocked at her wanting to stay on at the farm alone, she cared not a fig for him. Phrases like these recur throughout the book showing her strong mindedness.
Sensitive
Chris is shown to have a poetic nature. At the start of 'Ploughing', she is contemplating the beauty of the summer landscape - the June moors yellow with broom and powdered faintly with purple. Her closeness to the land is shown in her heightened senses – she loves the sounds, smells and feel of it, the peewits crying, the pringling smell of a new-ploughed park, and even the rough texture of the Standing Stones.
Intellectual
Chris is aware she has an intellectual side which Ewan cannot share. Even during the happiness of her wedding she is aware that she feels separate from the kindly folk of the farms.
When she and Ewan visit Edzell Castle, she laughs at his ignorant and naive remarks, and feels queer and sorry, as she glimpsed the remoteness that her books had made.
Patriotic
Chris is very proud to be Scottish. Her signature song is 'The Flowers of the Forest', a lament for the dead heroes of Flodden. When she has to choose between the 'English' and 'Scottish' Chrisses, it is the Scottish Chris that she chooses.
When Will returns from Argentina, and says he has no intention of remaining in Scotland which he claims is dying, Chris feels a sudden thrust of anger – Scotland lived, she could never die, the land would outlast them all.