Tourist often use OS maps to help them to identify quiet, secluded pieces of the coastline where they can enjoy a nice sandy beach in relative solitude.
Maps will often show the key erosion and deposition features studied at GCSE geography. In addition, some places will also show evidence of coastal management, groynes and sea walls.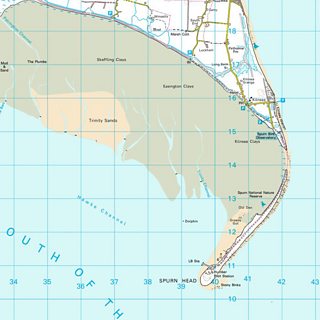 The Ordnance Survey map of the Holderness coastline helps to reinforce the idea that Spits like Spurn Head can often be temporary structures that are only one storm away from removal.
The build-up of sand at 421 140 has been removed to the point that the end of the spit has nearly been left as an island. This deposition beach is in a constant state of flux and even though the end of the spit has a Life Boat station (397 111) and a Pilot Station (400 109) – access to these could be jeopardised at times.
For more general revision of map skills go to the Map skills section in Geographical skills