Changing attitudes to imprisonment in Scotland
Attitudes towards imprisonment and the treatment of offenders are changing in Scotland. Over the past few years, the Scottish Government and most politicians in Scotland have come to think of prison as largely ineffective in rehabilitating offenders. There is some evidence that a prison sentence when given to an offender only makes them more likely to commit crime on release.
A report by Audit Scotland in November 2012 called on the Scottish Government to do more to tackle re-offending. The report stated that, all too often, offenders leave prison only to return within months, convicted again because there has been little work done to address the reasons why they commit crime.
It said a total of 1,300 different services are available for offenders in prison and in the community. But these services are not necessarily effective. Some services that are known to be effective are not provided. The report recognised re-offending rates were coming down. But with the Scottish Government estimating that re-offending costs the country £3 billion a year, it is important that the position improves further.
An end to prison sentences of three months or less
In 2010, the Scottish Parliament passed a law which, unless there was very good reason, ended prison sentences of three months or less.
Although not supported by all MSPs – some retain support for short sentences and others wanted the law to end sentences of 6 months or less – the law is seen as a step in the direction of promoting the use of alternatives to prison and to reducing prison overcrowding.
Non-custodial alternatives
If a person is found guilty of committing a crime the judge or sheriff has a range of punishments or disposals that they may choose to hand down.
The disposal, depending on the circumstances of an individual case, range from absolute discharge or admonition – both are where someone is guilty but it is not thought best to impose a punishment – to a life sentence.
Alternative punishments to prison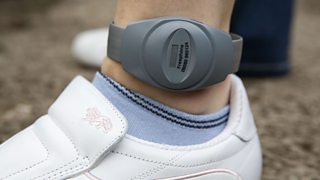 A fine is usually a financial payment made to the court for less serious crimes or offences. For example, someone caught speeding in their car for the first time will most likely have their licence endorsed – stamped with penalty points - and be given a £60 fine.
Electronic tagging is also another common punishment. An electronic tag is a control device to restrict an individual's movement. The tag can be used to ensure an offender is at home within certain times. Electronic tags are cheaper than sending someone to prison to control their movements.