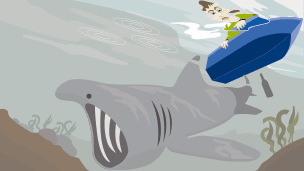 Norman MacCaig divided his time mainly between Edinburgh, where he lived and worked, and the North West Highlands, where he had relatives and friends.
He loved the North West, particularly the area called Assynt and this poem depicts the startling encounter he had while out on a small boat in the Minch (the sea area between the Hebrides and mainland Scotland) near Lochinver.
Basking sharks are one of the largest species of shark, reaching sizes in excess of ten metres and weighing several tonnes.
They are still found, though reduced in number, in the seas off that part of Scotland. These harmless filter feeders have no true teeth, and as such pose no real danger to humans.
Still, MacCaig's surprise encounter with a creature of that size would be unnerving, particularly as it was close enough to touch the oars of his small boat.
This encounter sparked in him a reflection on the comparative paths of evolution differing species took. Basking sharks on the one hand, relatively unchanged for millions of years, and humans on the other, vastly changed since the days when marine life first crawled ashore and adapted to a life on land.
This train of thought leads to a disturbing question: who's the monster? Is it the shark, literally monstrous in size and aspect to the human - or is it the poet himself, representative of the human race and all the dark, monstrous deeds of which our race is capable?
The thought remains with the poet, unresolved, as the shark swims off.