ICT stands for information communication technology. Businesses have gained significantly from advances in computing. For instance, ICT enables:
home working

and

inexpensive call centres

located overseas

automated stock ordering

where items are reordered to ensure shelves are always full -

less paper work

reduces administration costs

e-commerce

where products are traded and paid for on the

internet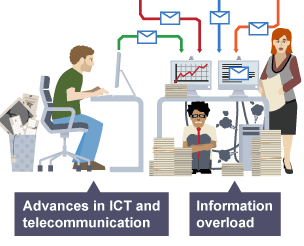 Advances in ICT and telecommunications mean it has never been easier or cheaper to send messages by email or text. Senders can check that a message has been received and understood. The danger is that this will lead to information overload and staff will have to spend hours reading hundreds of electronic messages.
Staff training that emphasises the need to limit communications can help avoid the inefficiencies associated with information overload.
E-commerce opens up international markets to firms as overseas customers can view products for sale online.
A business can develop links with customers through email newsletters.