There is solid ice on a car's rear window.
The glass window contains an electrical heating element.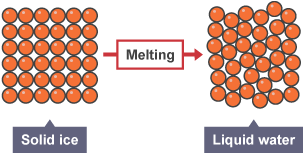 Use the particle model above to describe how the heating element causes the arrangement of the ice particles to change as the ice melts.
You should include a description of how the particles are arranged in the solid ice and in the water. [6 marks]
The electric current in the wire causes heating which increases the temperature of the metal wires and the ice. In the solid ice, the arrangement of particles is regular and they vibrate about a fixed position. When the solid melts, the internal energy of the ice increases, increasing the temperature to melting point and the particles vibrate faster. Eventually, the particles vibrate fast enough to break the intermolecular bonds and move randomly in an irregular, liquid, arrangement.
A strong answer will be clearly worded with good use of scientific key words. It may include the following points:
current in the wire causes heating

increases temperature of the metal wires/ice
Solid:
arrangement of particles is regular

particles vibrate about a fixed position
Melting:
internal energy of the ice increases, increasing the temperature to melting point

so (as the temperature increases) particles vibrate faster

eventually particles vibrate fast enough to break free from the (strong) bonds

therefore the arrangement of particles becomes irregular
Liquid:
arrangement of particles is irregular

particle movement (translational) is random
[6]