Regional climates in the UK
Different parts of the UK experience slightly different regional climates. These can be summarised as:
North West

- Cool summers, mild winters, heavy rain all year

North East

- Cool summers, cold winters, steady rain all year

South East

- Warm summers, mild winters, light rain all year, especially summer

South West

- Warm summers, mild winters, heavy rain all year, especially winter
The variability of weather and climate in different regions of the British Isles is due to the different air masses that meet over the Isles. Each air mass brings with them different characteristics, as shown in the map below.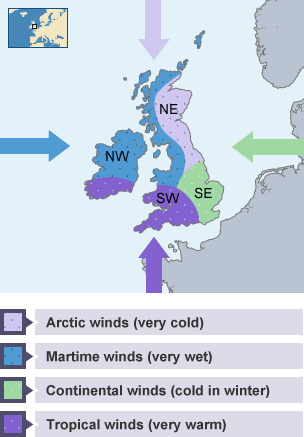 Sunshine hours
Sunshine hours are greatest along the south coast of England (average of 1,750 hours of sunshine per year) and are least in mountainous areas (average less then 1,000 hours).
Daylight hours
Scotland has shorter winter days and longer summer days than the rest of the UK, because it is further north. In north Scotland there are four more hours of daylight in midsummer than in London.
Rainfall
On average it rains one in three days in the UK. However, rainfall varies greatly from region to region. It is generally wetter in the West than the East and wetter in the highlands than the lowlands. The wettest place is Snowdonia in Wales (average annual totals exceeding 3,000 mm of rain a year), followed by the Scottish Highlands, the Lake District, the Pennines and the moors of south-west England.
Parts of the East, such as East Anglia, receive less than 700 mm a year.
In most places in the UK it will rain twice as much in winter months as in summer months. Although in central and south-east England, and parts of south-east Scotland, July and August are often the wettest months of the year. In London and Birmingham it will thunder on average 15 days a year, compared to less than 10 elsewhere in the UK.
Average temperatures
Average temperatures in UK are warmer at lower latitudes and colder at higher latitudes. They are also warmer at lower altitudes and colder at higher altitudes. Average yearly temperatures at low altitude vary from 7°C in Shetland, in northern Scotland, to 11°C on the south-west coast of England. The coldest (and highest) place is Ben Nevis - altitude 1,344m - where the average temperature is less than 0°C.
The coldest months are January and February and the warmest are July and August. In summer Scotland will be about 3°C cooler than England. The average daily maximum temperature in Glasgow in July is 19°C compared with 22°C in London.
Severe weather
Scotland tends to be worse affected by severe weather than the rest of the UK. Snow is more common in highland regions than in lowland areas, so while snow might fall on south-west England less than 10 days a year, it will fall on the peaks of the Cairngorm Mountains over 100 days a year.
Gale-force winds (winds of more than 34 knots or 17.2 m per second) are most commonly caused by depressions travelling across the Atlantic Ocean. These depressions may pass close to or over Scotland, with Orkney and Shetland experiencing the strongest winds. Occasionally they can reach hurricane force, eg the storm in October 1987.