One way of analysing motion in a physics lab is to use ticker tape.
A long tape is attached to a moving trolley and threaded through a device that places a tick upon the tape at regular intervals of time.
The movement of a trolley down a slope was investigated using ticker tape with a frequency of 50 Hz. The ticker tape produced 50 dots per second.
The 14 cm length of the ticker tape was cut into four strips. It was cut through the middle of the first and then the sixth hole.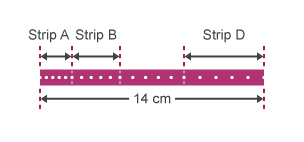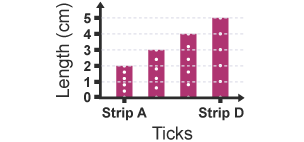 a) i) What is meant by acceleration? [1 mark]
ii) How would the appearance of ticker tape be different if the trolley moved at constant velocity? [1 mark]
iii) Calculate the time that it took for each strip to form and hence show that the mean velocity of the trolley in the strip marked A was 20 cm/s. [2 marks]
b) The mean velocity of the trolley in strip B was 30 cm/s. Recall a suitable equation to calculate the acceleration of the trolley in cm/s2. [3 marks]
a) i) Rate of change of velocity [1]
ii) Holes evenly spaced/same distance between holes/same length strips [1]
iii) Time for each strip = 5 × 1/50th s = 0.1 s [1]
velocity = displacement ÷ time = 2 ÷ 0.1 = 20 cm/s [1]
b)
[1]
So,
[2]