A.F Stobo Carpet Manufacturers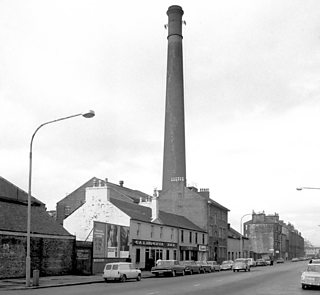 While no description of the factory is given, it is based on an actual carpet factory where Byrne served as a Slab Boy and designer in his youth. Stoddard's Carpet Factory was built in 1862 and exported carpets all over Europe and America. The factory served as a hub of industry in the area, but was closed in 2003 and demolished to make way for residential buildings.
By locating the play in the slab room of a carpet factory, Byrne looks back to his own experience. Concentrating on the job of the Slab Boys - grinding and mixing powdered colour for the designers - he depicts a situation that involves repetitive physical graft but which hints at colour and expression. In this way the setting reflects the ideas of grim everyday reality and ambitions of escape into greater levels of creation, expression and fulfilment.
Ferguslie Park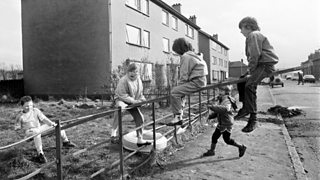 The character Phil, like the playwright, is from Ferguslie Park; a working class housing scheme in the outskirts of Paisley.
Ferguslie Park grew in the period after World War 2. Many of its residents worked in nearby carpet and manufacturing industries. However the area did suffer from high levels of poverty.
As with the slab room setting, Byrne uses Ferguslie Park to reflect that Phil has a very working class, and possibly impoverished, background. This helps establish the contrast between his circumstances and those of Alan.
The fact that Byrne himself was able to move from Ferguslie Park to become a highly regarded artist and dramatist suggests that there is also hope for Phil. The Slab Boys celebrates Phil's ambition and Byrne himself has shown that, regardless of background, great achievement is possible.