Heavy rain

- 2012 brought the wettest UK summer since 1912. The highest 24-hour rainfall total of 341.4 mm was recorded on 5 December 2015 at Honister Pass, Cumbria.

Gales

- in January 2005, 100 mph winds hit northern England. When strong winds combine with high tides, serious incidents of coastal flooding can result.

Floods

- in August, 2004 a flash flood hit Boscastle in Cornwall. A number of unusual circumstances combined with a short period of intense rainfall to devastate this coastal village.

Heavy snowfall

- the winter of 2010/2011 was called 'the Big Freeze'. Snow fell as early as November and continued into the new year. Winds blew from the north-east, bringing heavy snowfall to much of the UK.

Thick fog

- thick fog caused a 130-vehicle crash on the Sheppy Crossing in Kent in September of 2013. Low visibility meant that drivers could only see 10 to 20 yards ahead of them.

Heat waves

- on 10th August 2003, in Gravesend Kent, the highest temperature ever experienced in the UK (38.1°C) was recorded.

Drought

- over an extended period between 2004 and 2005.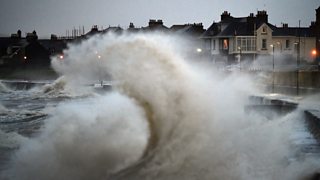 This extreme weather impacts on UK citizens in many different ways. Bouts of high precipitation have caused flooding to residential properties, industrial buildings, and transport links, while periods of high temperatures have led to water restrictions and crop failure on farms. There have been some positive effects, however. For example, a warmer climate has allowed new crops like tea, grape vines and olives to be grown commercially in parts of the UK for the first time.
Flooding is becoming more frequent in the UK. The Environmental Agency is responsible for monitoring the potential for flooding. They evaluate the risk of flooding and issue warnings for areas. They use three codes to help people be able to prepare: