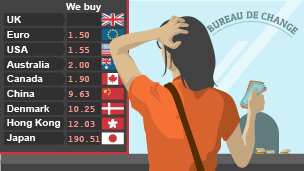 Emily goes to Germany from the UK. She brings \(\pounds200\) in euros. (The exchange rate is \(\pounds1 = \euro1.50\)).
While in Germany she spends \(207\,euros\).
When she comes home to the UK she changes her remaining euros back into pounds at the same exchange rate.
The exchange office Emily uses each time does not charge commission.
How much does she get back in pounds?
Amount of euros\( = 200 \times 1.50 = \euro300\)
She spends \(\euro207\)
Money remaining \(= 300 − 207 = \euro93 \)
Amount of pounds\( = 93 \div 1.50 = \pounds62 \)