Deciding on the order of your writing
Once you have planned your ideas for a piece of writing, you need to work out the best order for your paragraphs.
In both fiction and non-fiction writing, paragraphs give your writing shape. In a short story, writers often build up to the most exciting moment. Similarly, in an article or speech, writers tend to lead to their most important point.
Here's a suggested plan: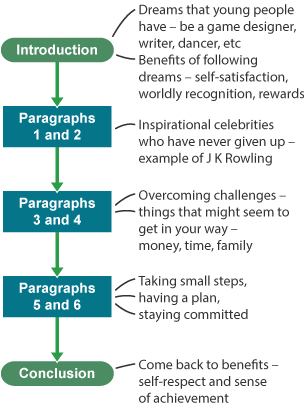 In this plan, the introduction includes examples of dreams that this audience might have. The purpose of the article is to inspire young people to follow their dreams, so the benefits are included in the introduction, making this purpose clear.
The next paragraphs use examples from real life as inspiration. The first paragraph refers more generally to successful individuals who have overcome all odds and the next one deals specifically with J K Rowling and her story of perseverance.
The next section looks at difficulties and, as this is an inspirational article, suggests ways of overcoming these.
Then the article offers advice for young people to help them achieve their goals.
The final paragraph reminds the readers of the benefits of following a dream, bringing the article full circle.
Notice how this plan builds up and deals with one point in each paragraph.