This question is about kinetic and gravitational potential energy.
Look at the graph. It shows how the speed of a rollercoaster car changes with the distance travelled along part of the track.
The rollercoaster car starts from rest at the top of the track at A.
The car and its passengers have a total mass of 400 kg.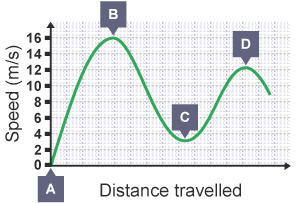 OCR Gateway Science, GCE Physics, Paper B751, June 2015 - Higher.
Kinetic energy increases from A to B and decreases from B to C [1]. The gravitational potential energy decreases from A to B and increases from B to C [1].
Calculation:
loss in gravitational potential energy = gain in kinetic energy [1]
kinetic energy = 0.5 × mass × (speed)2
maximum kinetic energy = 0.5 × 400 × 16 × 16 = 51,200 J [1]
gravitational potential energy = mass × height × g
51,200 = 400 × height × 10 [1]
height = 51,200 ÷ (400 × 10) = 12.8 m [1]
Answering tip: Briefly plan the key points you want to include in your answer. For example:
say what happens to the kinetic energy and gravitational potential energy A-B and B-C (not C-D)

calculate kinetic energy at point B (equal to gravitational potential energy)

calculate height from this