All genetic conditions are called disorders and those that inherit them are called sufferers. Most genetic disorders, like cystic fibrosis, require two recessive alleles to be inherited (one from the mother and one from the father). So if a person inherited both recessive alleles they would be a sufferer. If a person receives only one recessive allele, their one dominant allele means they do not have symptoms of the disorder. However, they are able to pass it to their children. They are called a carrier.
If alleles for a disorder appear on the sex chromosomes they are called sex-linked. Men have one X chromosome and one Y chromosome. The Y chromosome is smaller than the X chromosome and does not possess as many genes. If a gene is contained on the part of the X chromosome that is missing from the Y chromosome, men only have one allele for that gene, rather than the usual two. If the allele on the X chromosome codes for a disorder, the man will always have the disorder because there isn't another allele on the Y chromosome to mask the effect of the allele. This means that even conditions caused by a recessive allele will be inherited by the man because there cannot possibly be a dominant allele on the X chromosome to mask the effect of that recessive allele.
Red-green colour blindness
This disorder affects about 8% of men and about 1% of women. Sufferers are unable to tell the difference between red and green. Tests like the image below are used to test for this disorder.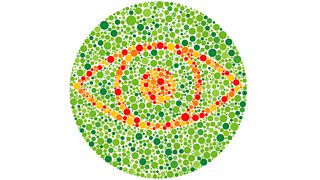 The female alleles are shown in the top row and the male alleles are shown in the left-hand column
B represents the dominant allele for unaffected.
b represents the recessive allele for red-green colour blindness.
These alleles are found on the X chromosome. The smaller Y chromosome does not carry an allele for the colour blindness gene.
The male genotype is XBY which means he does not have the disorder. The female genotype is XbXB which means she is a carrier for the disorder.
Of the possible offspring:
25% are X

B

X

b

which are female carriers without colour blindness

25% are X

b

X

b

which are females with colour blindness

25% are YX

b

which are males without colour blindness

25% are YX

B

which are males with colour blindness
Note that the Y chromosome does not have the superscript letter B or b because it does not possess the allele for colour blindness.