Giant covalent structures
Giant covalent structures contain very many atoms, each joined to adjacent atoms by covalent bonds. The atoms are usually arranged into giant regular lattices - extremely strong structures because of the many bonds involved.
The graphic shows the molecular structure of graphite and diamond (two allotropes of carbon) and of silica (silicon dioxide).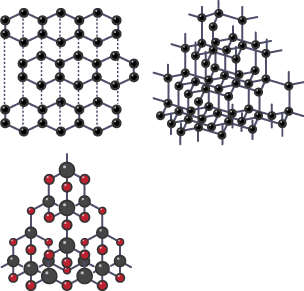 Properties of giant covalent structures
Very high melting points

– this is because a lot of strong covalent bonds must be broken. Graphite, for example, has a melting point of more than 3,600°C.
Graphite
Graphite is a form of carbon in which the carbon atoms form layers. These layers can slide over each other, so graphite is much softer than diamond. It is used in pencils, and as a lubricant. Each carbon atom in a layer is joined to only three other carbon atoms. Graphite conducts electricity.
Diamond
Diamond is a form of carbon in which each carbon atom is joined to four other carbon atoms, forming a giant covalent structure. As a result, diamond is very hard and has a high melting point. This explains why it is used in cutting tools. It does not conduct electricity.
Silica (or silicon dioxide), which is found in sand, has a similar structure to diamond, so its properties are similar to diamond. It is hard and has a high melting point, but contains silicon and oxygen atoms, instead of carbon atoms.