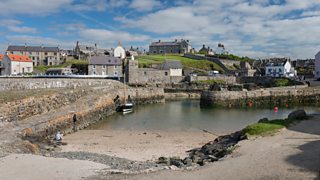 Monimaskit is where Gideon lives and works as a minister. It is described as being a typical small Scottish town deep in the countryside with a population of a few thousand. It is historically a market town and fishing port and is notable by the fact that the River Keldo flows through the town.
Small town life
The town and people in it reflect small town life and rural Scotland. There is a sense of people knowing each other's business, possibly even some claustrophobia in how interlinked people's lives are. Through some characters, especially Peter MacMurray, a sense of self-importance is portrayed. MacMurray suggests a set of narrow and traditional opinions. There seems to be a lack of understanding, even malice, about the quick suspension of Gideon following his confession.
But small town life is not shown as completely negative. Some characters, for example Henry Leask the barber, come across as more humane and grounded. And there is a sense of pride in the community when they first join Gideon in charity fundraising
Surrounding area
Monimaskit has its own history and legends - enough to inspire Bill Winnyford's art installation.
The Keldo Woods, twelve standing stones and an impressive geological formation known as the Black Jaws lie on the outskirts.
These features of the town's geography are connected to the local folklore and play an important role in the story that unfolds. They are closely linked to the supernatural events which transform Gideon's life and culminate in his disappearance.