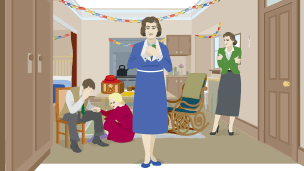 The final act begins on a positive note. The mood is upbeat like the beginning of the play, but the audience notices that the kitchen is tidy, there is a wireless playing jazz music, Ernest has new football boots and Maggie is in a new dress.
This is all because John has found work. When he enters, he is happy and confident to be back in his role as provider and he movingly gives Maggie a red hat which reminds her of their courting days.
Although Maggie's neighbours and later Lily are not impressed by the hat, Maggie insists on wearing it and she goes out window shopping on Sauchiehall Street.
After a time lapse, Isa enters and starts to pack up her things. She makes it to the threshold with her suitcase only to find Alec standing there wild-eyed. Alec tries to strangle her for the second time, but again lets go.
Isa pretends she loves him in order to leave and cunningly trips Alec up and races out the door, leaving him sobbing. After he has followed her out, Maggie and Lily re-enter and discover the mess the argument has created.
Lily hides the knife in her handbag and Maggie, no longer happy, sits slumped in misery at the actions of her unruly son. Lily looks after Maggie and there is a poignant moment between the two sisters.
The Act draws to a close with the arrival of Jenny, who has found a sugar daddy to keep her, and has pulled herself up from rock bottom. Jenny reveals the truth about Bertie and comes with a roll of notes that are to pave the way for Maggie's new life.
John returns and there is immediate tension between father and daughter. He refuses the money and dismisses her attempt at helping the family, saying she hasn't earned the money. However, Maggie usurps his status of head of the house, takes the money and then humiliates John in front of Lily.
The play ends with Maggie imagining her future, so it is therefore an optimistic conclusion.