Act I
Scene one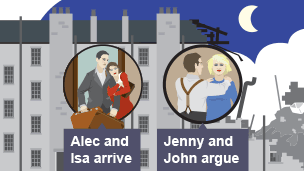 The play opens on a chaotic tenement setting, with Maggie calling for her children out of the window.
A light-hearted domestic scene ensues with Granny complaining in the corner, the children running in from outside and Maggie soothing the baby and Bertie.
Underlying the cheerful mood however, is the concerning deficiency of necessities. These are made more apparent by the arrival of Lily who reminds Maggie of her impoverished predicament.
When John enters there is obvious affection between husband and wife, and an apparent tension between spinster Lily and chauvinist John. Offended by John, Lily leaves declaring she has lent Alec money.
The neighbours enter with news of Alec's house collapsing and the scene closes with Mrs Harris annoyed at Maggie for accusing her daughter of having lice in her hair.
Scene two
The scene takes place towards midnight of the same day. Alec and Isa enter. The family are putting them up after the collapse of their tenement.
Alec is drunk, and already the dynamic between him and his wife is clear. He fawns over her – we see how he paws her - while she pushes him away.
John's disapproval and disappointment in his son are revealed by his tone Whit I'd like tae dae is kick him oot o the house. Maggie placates and despairs.
After Isa and John take Alec off, John returns, and there is a moment of affection between Maggie and John. They then eat a tin of beans together and Maggie has to admit that Jenny is not yet home.
The mood darkens as John reacts angrily to this. He hears her outside and goes out, then drags her inside.
Jenny is furious and says she is leaving; conflict ensues between father and daughter, which culminates in John hitting her. The scene ends with John staring out of the window, smoking.