Students investigated the activity of the enzyme lipase in milk at different temperatures.
The results of the investigation are shown below:
| Temperature (°C) | Enzyme activity (a.u.) |
| --- | --- |
| 10 | 15 |
| 20 | 32 |
| 30 | 48 |
| 40 | 54 |
| 50 | 36 |
a) Plot the results on a grid where the x axis is 'Temperature in °C' and the y axis is 'Enzyme activity (a.u.)'. You must also:
choose a scale for the temperature axis

[1 mark]

plot the results for enzyme activity shown in the table

[2 marks]

join your plots with a ruler

[1 mark]
b) From your graph:
i) Describe how the activity of the enzyme changes between the temperatures of 25°C and 45°C [1 mark]
ii) Calculate the change in enzyme activity between 15°C and 35°C. Show your working [2 marks]
Question courtesy of Eduqas.
a)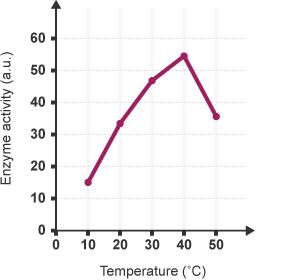 suitable scale properly labelled [1]

correct plots [2] - it is possible to get one mark if there is one error but two errors will get no marks

clear line through the centre of the points with ruler [1]
b) i) Rises then falls/goes up and then goes down/goes to maximum and then drops. [1]
ii) Correct readings from graph should be shown in working:
= 51 - 23 [1]
= 28 [1]
The examiner will accept the answer 27.5 or 27 if the readings taken from the graph are slightly different.