Plot a graph of the results.
Join the points with straight lines. [4 marks]
Your graph should look like this: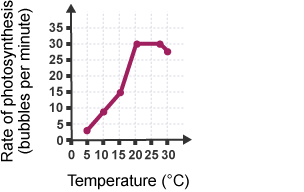 Axes and scales correct and labelled [1].
All points plotted correctly [2], or two to three points plotted correctly [1].
Points joined together correctly [1].
Follow the instructions on the exam paper when connecting points on a graph.
Join points dot-to-dot when told to do so, or draw lines of best fit to illustrate trends.