Rosinella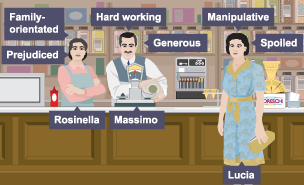 Rosinella is the central protagonist. The play shows her journey from being a prejudiced and selfish character to one who understands and accepts other.
Rosinella can be described as:
Family-orientated

Loving

Controlling

Traditional

Patriotic

Prejudiced
In Act 1 we witness both positive and negative traits to Rosinella's character.
Family-orientated
Rosinella shows herself to be a loving wife to Massimo and a caring guardian to their niece, Lucia. She appears to put her family's needs before her own. At the start of the play, this is a trait which Massimo admires in her:
Question

How do we know Rosinella puts her family first?

She buys Lucia a dress instead of buying a coat for herself.

Massimo says Last year when I gave you money for a coat you bought jumpers to send to Italy.
Loving
Rosinella is a dedicated, loving wife to Massimo and a committed caregiver to Lucia. The stage directions tell us that Rosinella is looking on, adoring at Massimo and Lucia.
Rosinella sees love as important. She married Massimo out of love and she wants the same for Lucia.
My Lucia's to marry a man that really loves HER
But it becomes clear that Rosinella wants love on her own terms. What the people around her want doesn't matter compared to her own needs.
Controlling
Rosinella tries to control her family. She does all she can to keep Franco and Bridget apart and then prevents Lucia from seeing Hughie. This reveals her prejudice, but it could be that this is brought out by Rosinella's need to keep her family with her.
When Massimo finally confronts Rosinella, it is about her selfish behaviour. She refused to go to Italy when he wanted to. But now she wants to be there, to be with Lucia, she has changed her mind. He says to her To hell with everything except what YOU want.
Traditional
Rosinella displays very traditional behaviour and opinions, particularly about men and women.
As a traditional Italian wife and mother, her place is the home. For almost all of Act One she does not move from the back shop. But it is implied that she feels inadequate - she cannot live up to her expectations of an Italian woman, as she has no child of her own.
Twelve years I've been married - and nothing. Me an Italian as well
The fact that Rosinella cannot read reflects her upbringing as a working class Italian woman.
She has different standards about the behaviour of men and women. She seems happy wih the idea that Franco will play around as long as he settles down with an Italian woman. But she views Bridget as a tart and she does not let Lucia attend the wedding with Hughie.
Although Rosinella wants Lucia to marry a man who loves her, her traditional ideas lead her to attempt to arrange a relationship with an Italian hairdresser.
But when it suits Rosinella she rebels against tradition. She married Massimo for love and in the end acts so that Lucia and Hughie can do the same.
Patriotic
Rosinella is proud of her Italian heritage. In Act 1 Scene 10 she says:
Italians are good for this country...we stick together, pay our own way, stick to the laws. What more do they want?
In Act 2 Scene 2 she says Nobody loves their families like the Italians Her idealisd view of Italians contrasts with her view of Scottish people.
Prejudiced
As the play progresses, we witness her prejudiced attitudes towards Scottish people. She believes the women to be tarts and implies the men are lazy and neglect their families.
Question

How does Rosinella show her prejudice?

Evidence for Rosinella's prejudice could include referring to 'Scotch' people. Or when she suggests These Scotch girls, they're all the same. They just go out with you for one thing.
Rosinella's prejudice impacts on Bridget. During an argument between Rosinella and Bridget, Bridget reveals that she aborted Franco's baby. She tells Rosinella that:
You made me believe I was nothing to him - just a wee Scottish tart for him to practise on
Her prejudice feeds her attempts to obstruct the growing love between Hughie and Lucia.
Rosinella's character is capable of change. She realises the impact of her actions on others.
This leads her to develop a more accepting and understanding outlook.
Rosinella's journey
At the end of the play we witness the transformation of Rosinella's character. After Bridget's revelation, she realises the harm she has caused others. When confronted by Massimo she is shown that her actions are pushing her loved ones away. To restore her family and make up for the damage she has caused, Rosinella helps Hughie and Lucia elope. As a result, her relationship with Massimo is rekindled.