Animals depend upon plants as an energy source. Chemicals in food are broken down in respiration to create energy stores that can be used by the cell.
Animal cells have a basic structure. Below the basic structure is shown in the same animal cell, on the left viewed with the light microscope, and on the right with the transmission electron microscope.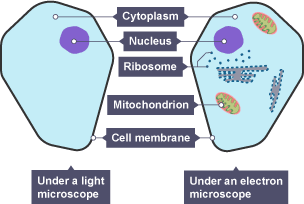 Mitochondria sometimes are visible with the light microscope but can't be seen in detail. Ribosomes are only visible with the electron microscope.