This concluding stanza is the longest and blends the past with the present as we experience another Hogmanay.
The preparations are not much different from those described in the opening stanzas though the setting is widened. Instead of being in a kitchen or at a party we watch the city get ready, All over the city/off licences pull down their shutters as people make for where they want to be.
There is a sense of expectation and anticipation in the air as everyone purposefully heads towards their destination. Lochhead really does capture the especially evocative mood of New Year.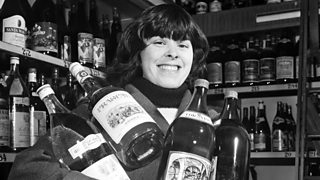 She moves from highrises to tenements to emphasize the special cameraderie that bonds communities together during Hogmanay, when so many of us are involved in similar activities.
She hints back to the past with her reference to the sunburst clocks, a familiar object immediately recognisable not just to Lochhead but to all readers of a certain age or generation. More than this though, the clock symbolises the relentlessness passage of time.
Despite the passing of the years, the old traditions continue - Everyone puts on their best spread and stocks up with sticky liqueur and steak pies.
The final parenthetical aside again reminds us that, like these traditions, superstition too must be observed - (for to even hope to prosper/this midnight must find us/how we would like to be).
The simile of the crusts of the pies like quilts on the double bed hints back, first to the bed from stanza one where her mother's dress lay in wait and also to the love scene from the previous stanza.
It also looks forward to the kiss at the end of the poem. The final lines And this is where we live/There is no time like the/present for a kiss, again are typical of Lochhead's economy and skill with language.
These simple lines convey a sense of utter contentment and of being truly happy in the present. They also leave the reader curious as to what the new year will bring for our couple.
While we are constantly propelled forward into the future, in this poem Lochhead reminds us to remember the past and enjoy the present.