Detailed plot summary - Part three
Christopher travels to London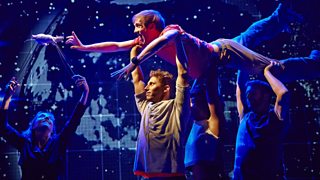 Credit
:
Brinkoff/Mögenberg
Christopher gets on the train and then has to brave the London Underground. His journey is chaotic and he puts himself in great danger after his pet rat escapes on to the tracks and he tries to rescue him. After much difficulty, Christopher finds the flat where his mother lives with Mr Shears. He lives with her for a time and his A-level Maths exam is postponed. Christopher's presence puts a strain on his mother's relationship with Mr Shears, who drunkenly attacks Christopher. After this, he and his mother leave London and return to Swindon.
Christopher takes his Maths exam
Due to the disruption of his family life, Christopher has to live in sheltered accommodation where his parents can visit. Luckily he does manage to get back in time to take his Maths A-Level. Christopher is very distressed before the exam but Siobhan, his teacher, calms him down and helps him focus.
Christopher passes the exam and plans for the future
Whilst waiting for his exam result Christopher is rebuilding his relationship with his father who has bought him a puppy to replace his pet rat, Toby, who has died. The play ends with Christopher getting an A* in Maths and planning a bright future. He is proud to have solved the mystery of Wellington's death. After the main action of the play, Christopher comes on stage to triumphantly explain how he managed to solve one of the questions in his exam!