A student investigated the changes in resistance of a 12 V filament lamp and wrote the following report of the experiment.
A 12 V power supply was connected in series with an ammeter, the lamp and a variable resistor. A voltmeter was connected in parallel with the lamp. Initially the variable resistor was set on its highest setting and readings were taken from the ammeter and voltmeter. The setting on the variable resistor was changed 6 times and the readings were taken from the meters each time.
The student did not write anything more. Your task is to complete the report. [6 marks]
Question courtesy of Eduqas.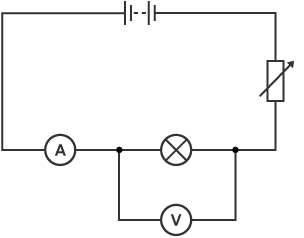 Resistance (in Ohms) is calculated each time by dividing the voltage (read from the voltmeter in volts) by the current (from the ammeter in amps) [1]. The results would show that as the voltage is increased, the resistance stays constant for low voltages [1] and then increases as the voltage gets bigger and bigger [1]. Sketch a graph with current on the y-axis [1] and voltage on the x-axis [1]. The graph is initially straight and then curves, showing a decreasing gradient [1].
Answering tip: Briefly plan the key points you want to include in your answer. For example:
a circuit diagram from the description given by the student

an explanation of how the results should be used to obtain resistance values

a sketch graph of how the current through the lamp would change with increasing voltage

a brief description of how the resistance of the lamp would change with increasing voltage (not why it changes)