a) Give a reason why lamps are connected in parallel in household lighting circuits. [1 mark]
The following circuit is set up to investigate the power of different lamps when they are connected in parallel: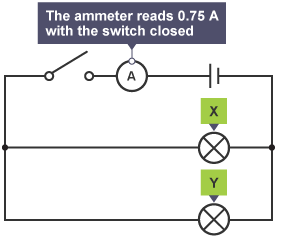 b) Describe how the power of lamp X can be determined, naming any components required. [3 marks]
c) You will need to recall equations to answer the following questions:
i) The power of lamp X is 2.5 W and its resistance is 10 Ω. Calculate the current through it. [3 marks]
ii) The ammeter reading is 0.75 A. Use this information to calculate the resistance of lamp Y. [3 marks]
iii) Calculate the ratio of the power of lamp X to the power of lamp Y. Show your working. [2 marks]
a) Can be switched independently/if one bulb fails others continue to work/have the same (mains) voltage across them/maintain their brightness when other lamps are switched on. [1]
b) Connect an ammeter in series with the lamp X [1]. Connect a voltmeter in parallel with/across lamp X [1]. Then multiply the two readings as:
[1].
c)i)
[1]
[1]
the current through lamp X [1]
ii) Current through lamp Y = 0.75 - 0.5 = 0.25 A
V across X = V across Y = IR = 0.5 × 10 = 5 V [1]
[1]
[1]
iii) Power of X = IV = 0.5 × 5 = 2.5 W
Power of Y = IV = 0.25 × 5 = 1.25 W
[1]
Ratio of Power = 2:1 [1]