Strategies to increase energy supply
As the global population continues to increase and existing fuel supplies begin to run out, countries will have to find ways to increase energy supplies.
Renewable energy
Renewable technologies offer a way to increase energy supplies, however they are often more expensive or less efficient at producing energy than fossil fuels. Therefore they often require government subsidies.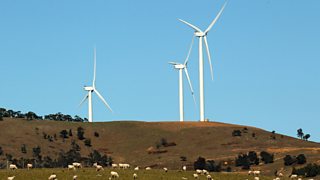 Non-renewable energy
Global energy use is still dominated by non-renewable energy. The use of non-renewable energy can be made more efficient. This could increase energy supplies as less fuel would be used.
Fossil fuels - coal and gas power stations can now re-use wasted heat in. These are called combined-cycle systems. Re-using heat makes the most out of the fossil fuel. Also, some power stations now burn small amounts of

biomass

alongside fossil fuels. This is called co-firing and it makes the fossil fuel last longer.

Fracking

could exploit shale gas, which would increase supplies of fossil fuels.

Nuclear power -

uranimum fuel rods

still have some uranium left within them after they have been used. Reprocessing recovers the uranium from

spent

fuel rods so that it can be reused. This doesn't create new supplies of uranium, but it does use the existing supplies more efficiently. This means that uranium supplies will last longer.