The 1950s saw an increase in social mobility. For the first time, students from working class backgrounds began to go to colleges and universities.
The distinction between classes was beginning to blur, but was much more present than in today's society: class was still a key factor in education and career choices, and working class school leavers would typically move straight into low paid, manual job roles.
Working life during this era was demanding:
full-time workers typically clocked up 48 hours a week in 1952

today, the average time spent in work is 37 hours a week

the average salary in 1952 was £100

today's average is £26,000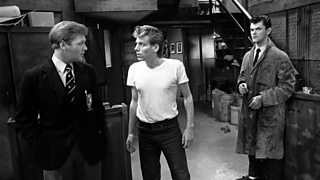 The play reflects class issues through the contrast between Alan Downie and the Slab Boys. Phil, Spanky, and Hector struggle to make a living and escape the slab room – despite their intelligence and talents. Alan is able to go to university, earn a decent wage, borrow cars, and get a date with relative ease.