John Byrne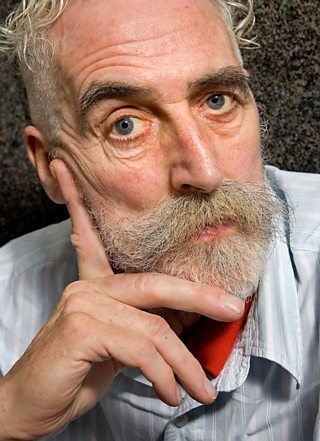 The Slab Boys is a semi-autobiographical play – there are parallels between the life of the playwright, John Byrne and the character Phil McCann.
Byrne is a Scottish playwright and artist. He was born in 1940 in Paisley, Renfrewshire and raised in the Ferguslie Park housing scheme.
He left secondary school before taking his final exams, in part due to his mother's health. Like Phil, Byrne's mother suffered from schizophrenia and her violent episodes led to her periodically spending time in local psychiatric hospitals.
Slab boy
Byrne took a job as an apprentice in the slab room of the local carpet factory, grinding colours for the designers. This provided the inspiration and backdrop for his successful Slab Boys trilogy of plays.
Art school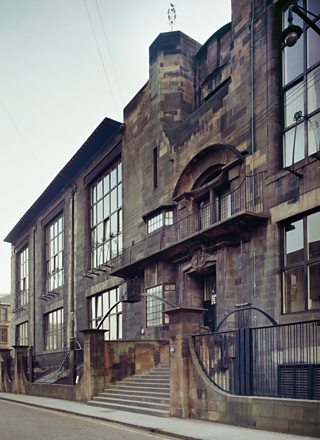 In 1958 Byrne was accepted onto a four year course at Glasgow School of Art. Here he developed his abilities and passion for art. Byrne struggled to make a living as an artist and returned to the carpet factory as a designer.
Byrne still felt drawn to the art world. He set about creating his own collection in 1968. He submitted it (under a pseudonym) to the Portal Gallery in London. His work was well received and his art was used on album covers by a range of musicians, including fellow Paisley dweller, Gerry Rafferty.
Byrne withdrew from the art word for 16 years following an unsuccessful show at a gallery in Glasgow. Instead, he threw himself into the world of theatre, working as a designer on various productions.
The Slab Boys trilogy
He began writing for the theatre and enjoyed success at the Edinburgh Fringe with his first play, Writer's Cramp (1977). The following year he released the first of the partly autobiographical The Slab Boys Trilogy and was named the Evening Standard 'Most Promising Playwright'.
Cuttin' a Rug and Still Life, the remainder of the trilogy, were completed in 1979 and 1982 respectively. The entire trilogy was performed at the Traverse Theatre, Edinburgh, and the Royal Court Theatre, London.
Television
Byrne went onto receive much acclaim for his six part television series Tutti Frutti (1987), which launched the careers of actors Robbie Coltrane and Emma Thompson. He followed this with the dark series Your Cheatin' Heart in 1990.
The Slab Boys revival
Since then Byrne has exhibited his artistic works regularly, demonstrating his wide artistic range and his ongoing contribution to Scotland's culture. He had also received a host of honorary doctorates from universities across Scotland. His humour continues to be present in each of his works and he supports a range of artistic projects across the country from his studio in Nairn.
The Slab Boys has enjoyed a revival at the Citizens Theatre, Glasgow (2015) and has been named by the National Library of Scotland as one the twelve key plays of the last 40 years.