Movement and settlement in the Islamic world
The Islamic world experienced huge migrations of people:
the Seljuk invasions from Central Asia in the 11th and 12th centuries

the Mongol invasions from central Asia in the 13th century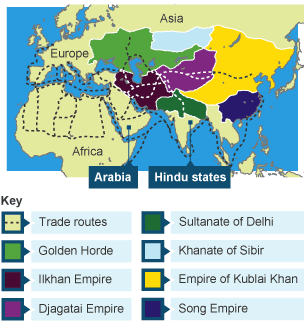 Also, medieval Muslim traders and warriors settled over a vast area of the globe, taking their religion with them.
Muslim Arab traders and warriors set up trading posts and settlements throughout the Sahara, down the east coast of Africa, into India and even in south-east Asia.

After the Mongols converted to Islam, they established a number of Muslim states in Iran, Central Asia and Russia. The Mongol state in Russia was called the Golden Horde.

The

ghazi

military commanders who conquered eastern Europe after 1350 were given land there as a reward.