Flooding case study - Tewkesbury, Gloucestershire
The summer of 2007 was one of the wettest on record. Heavy rainfall in June led to high water levels in rivers as well as saturated ground. The prolonged rainfall continued into July. Two months' worth of rain fell in 14 hours on 20 July. This water couldn't infiltrate the saturated ground and remained as surface water, which entered both the River Severn and the River Avon quickly. The result was widespread flooding.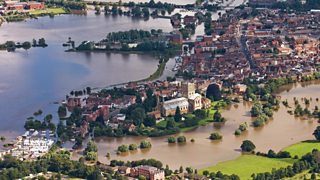 Effects of the flooding
Two people died as an indirect result of the flooding.

5,000 homes and businesses were flooded.

48,000 homes were without electricity for two days.

135,000 homes were without drinking water for approximately two weeks.

825 homes were evacuated.

10,000 motorists were stranded on county roads, including the M5 where many people remained overnight.
It is estimated that the flooding and water crisis cost the county of Gloucestershire £50 million.