The rapid growth of shanty towns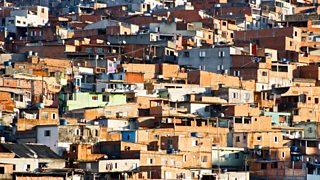 A favela in downtown São Paulo
Around 2,000 new migrants arrive into the city each week. This means that the favelas have been growing at a fast rate.
The population of São Paulo in 1940 was just over 1.3 million but huge amounts of migration meant that the population started to grow rapidly.
People were pulled into the city because they thought that São Paulo would provide better employment opportunities.
São Paulo provides more than 50% of all industrial work in Brazil. The structure of roads in Brazil meant that it was much easier to migrate into São Paulo than some of the other areas.
Migrants were often pushed out of their areas towards São Paulo.
Farming was difficult with very little pay for the effort involved.
Many rural areas struggled with either famine or drought so many farmers were keen to sell their farms and move into the big city to access better services and a better life for their families.
From the 1970s, newcomers to the city did not have enough money to buy their own land and were forced to look for housing alternatives. The favelas, where people built temporary houses, started to appear.