The Colorado River basin, situated in North America, lies in the south-west of the USA, as the map below shows.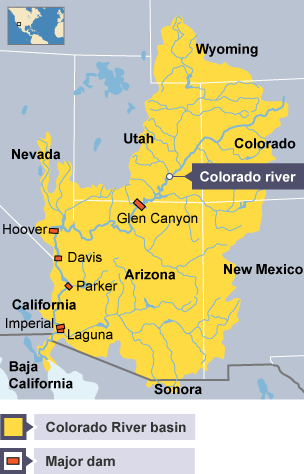 The river is approximately 1450 miles long. Its sources are in Wyoming and Colorado from where it flows south-west through Utah, Nevada, Arizona, New Mexico, California and Mexico, before entering the Gulf of California.
The Colorado River drainage basin covers 64,000 km2 of North America.
The Colorado is joined by over 25 large tributaries, of which the Green River is the largest by length and discharge.
Much of the river basin is very arid. The upper basin is characterised by high elevations, narrow valleys, and a short growing season.
The lower basin has lower elevations, wide basins and a long growing season.