Investment in the UK by individuals and firms from abroad (known as foreign direct investment) has also impacted upon the population of the UK.
The UK has the second largest amount of foreign direct investment (FDI) in the world after the US, the vast majority of which comes from Europe and the Americas.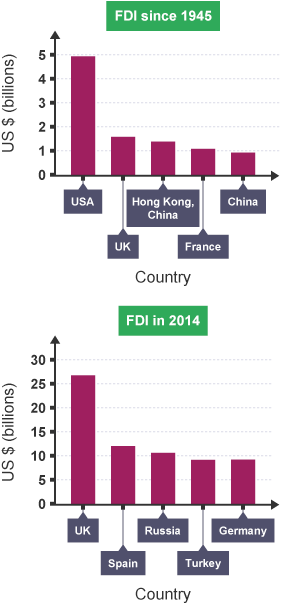 Financial services is the most important part of the economy, followed by mining and quarrying, and then ICT.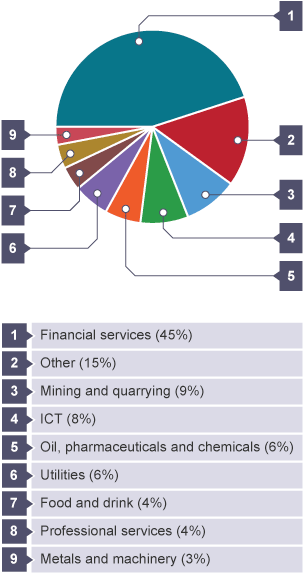 The UK has continued to attract this FDI. This increase in FDI is due to:
Trade blocs

- The UK attracts FDI from other EU countries such as France and Germany.

World financial centre

- London is presently the most important world financial centre and so is responsible for attracting much of the FDI. Nearly 1/3 of all new FDI projects in 2014 were located in London.

Skilled workforce

- the large number of highly educated people in the UK attracts much FDI – in 2015 London had four universities ranked in the top 30 in the world and both Cambridge and Oxford were ranked in the top ten.

Government policy

- the British government has offered grants and tax incentives as well as schemes such as the Global Entrepreneur Programme that attracts more FDI.
The location of the FDI varies according to the type of industry:
Primary

- this is overwhelmingly situated in the North Sea oil and gas fields. Companies such as Esso and Texaco have large FDI in both oil and gas.

Secondary (manufacturing and industry)

- although secondary industries account for only 20% of the

GNP

of the UK, there has been considerable FDI in manufacturing and high technology growth poles such as the M4 corridor.

Tertiary (financial services, banking etc)

- this is now the largest sector for FDI, and is also concentrated in London.