The Prime Minister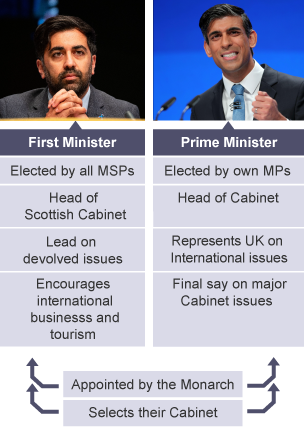 The Prime Minister (PM) is the head of the UK Government. usually the leader of the largest party in a government or the leader of the party who wins an election. The Prime Minister is officially appointed by the monarch.
The PM has several roles including:
deciding the direction and priorities of the UK Goverment

overseeing the work of government agencies and the civil service

selecting cabinet ministers and other members of the government

chairing meetings of the cabinet

representing the UK at home and abroad
UK Government
Cabinet ministers are senior MPs who have responsibility for running a government department such as defence or international development. There is a minister for Scotland titled the Secretary of State for Scotland.
The PM and their cabinet are collectively accountable for their policies and actions to their respective parliaments. They are expected to appear before parliament each week and answer questions from MPs.
One way the Prime Minister is held to account is at Prime Minister's Questions (PMQs). PMQs takes place every Wednesday at midday.
Current Prime Minister
At the General Election of 2015, the Conservative Party were returned with more MPs than all the other parties put together. They were able to form a majority government, with David Cameron as Prime Minister.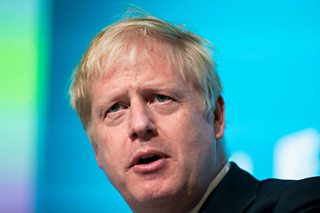 When he stood down in 2016 (after the country voted to leave the European Union) the Conservative party chose the new PM because they still had a majority of MPs. After David Cameron stood down, Theresa May took over as PM.
Theresa May called a General Election for June 2017, hoping to strengthen the Conservative's parliamentary majority. However, the result saw the number of Conservative MPs drop from 330 to 317. The Conservative remained the party with the most seats, so Theresa May remained PM. However no party won a majority in parliament, therefore the election resulted in a hung parliament.
After failing three times to get her BREXIT deal through Parliament, in June 2019 Theresa May stood down. Boris Johnson became Prime Minister on 24 July 2019 after he was made leader of the Conservative Party.