Early life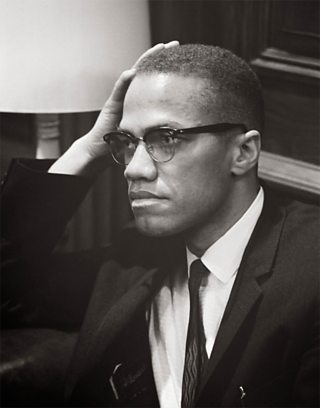 Malcolm X was born in Nebraska in 1925 as Malcolm Little. When he was six years old his father was murdered in a racist attack.
When Malcolm left school he went to stay with his half-sister in Boston, it was there that he became involved in crime. In 1945, he was sentenced to seven years in prison for burglary.
It was there that he first heard about the Nation of Islam.
Nation of Islam
Founded in Detroit 1930.

Accepted only black Americans as members between 1930 and 1975.

Argued for the separation of black and white people.

Considered white people to be 'devils'.
Malcolm X and the Nation of Islam
When Malcolm was released from prison in 1952 he joined the Nation of Islam and changed his surname from Little to 'X'.
He said that the X represented his real and unknown African name. During the 1950s and early 1960s, he was the principle speaker for the Nation of Islam.
In his speeches he rejected the tactic of non-violence. He accused Martin Luther King of letting down African Americans by not urging them to fight back.
Malcolm X also spoke about the poor economic and social conditions faced by many African Americans, especially in the ghettos of the northern cities.
He said, I am black first…My sympathies are black, my allegiances are black, my whole objectives are black…I am not interested in being an American, because America has never been interested in me.
The video below shows an interview with Malcolm X after the Nation of Islam in 1964.
Frustrated by the slow progress of the Nation of Islam, Malcolm X left the organisation in March 1964.
Shortly afterwards, he travelled on a pilgrimage to Africa and Mecca in the Middle East, where his beliefs changed.
He discovered that many of his fellow pilgrims were actually white and were not any different to himself.
He said: In a few weeks in Africa I saw all races, all colors, blue-eyed blonds to black skinned Africans in true brotherhood…I now know that some whites are truly sincere and are capable of being brotherly towards a black man.
On 21 February 1965, Malcolm X was assassinated while speaking at a rally in New York by three assassins connected to the Nation of Islam.
The video below shows a rare interview with Elijah Muhammad, the leader of the Nation of Islam in 1964.