Location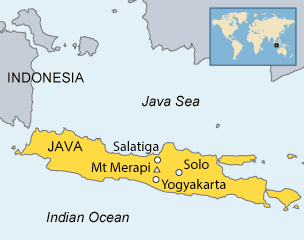 Mt Merapi (meaning Mountain of Fire) is an active stratovolcano (or composite volcano) located in South East Asia, on the island of Java, Indonesia. It is the most active volcano in Indonesia, having erupted regularly since 1548.
Merapi is located in one of the most densely populated parts of Java with over 11,000 people living on the slopes of the mountain. Most of these people are poor farmers who depend on the richness of the soil for their living.
In March 2010 there were the first signs that the volcano would erupt. Tiltmeters showed that the volcanic dome had begun to bulge. In September there was increased earthquake activity and white plumes of smoke were seen rising above the volcano's crater. On Monday 25th October 2010, Merapi erupted and continued to erupt until 30th November.