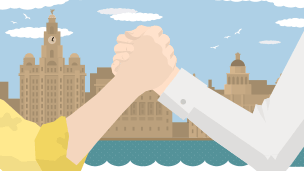 Blood Brothers, a musical by Liverpudlian playwright Willy Russell, revolves around twin boys (Mickey and Edward) who are separated at birth and brought up in completely different environments in the city. The play, set in the 1960s, is divided into two acts, with songs throughout.
Mickey is brought up with his seven older siblings by his struggling single mother, Mrs Johnstone. His twin brother, Edward, however is brought up as the only child of the wealthy Lyons family, who live nearby, after Mrs Lyons persuaded Mrs Johnstone to hand over one of her twins at birth. Mickey and Edward don't meet each other until they're seven years old, but immediately become best friends and blood brothers. The bond continues when the boys are teenagers and both live in the countryside, despite them both being in love with Mickey's neighbour Linda. However, as they get older, the huge difference in their backgrounds pulls them apart and eventually leads to their tragic deaths.
Written during a period of huge changes in society and politics, Blood Brothers draws the audience's attention to the detrimental effect that social inequality can have on people's lives.