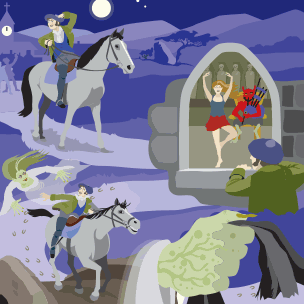 This is the only narrative poem in the set, and gives fullest expression to Burns' imaginative story-telling powers.
The titular character sets off late on a dark night, full of drink, on his horse Meg Maggie). On his travels, he spots a wild gathering of witches and warlocks partying with the devil.
Having inadvertently called out to one of the witches, he sets off at high speed in search of home, with the ghastly crew in hot pursuit. He makes it away in the nick of time, but not before one of the witches has snatched off Meg's tail.
This poem explores the following themes:
A celebration of life-affirming enjoyment of the joys of this world

A recognition that human pleasure is fleeting, but all the more precious for that

It appears to warn of the consequences of our actions but this moral is undermined