Climate change is already affecting Scotland. Over recent decades the climate has become warmer, there have been changes in rainfall patterns and sea levels have risen.
The expectation is that Scotland's climate will continue to change:
average temperatures will increase year round

summers will usually become warmer and drier

winters will usually become milder and wetter

weather will become more variable

heavy rainfall events will become more common
Wetter weather and more sudden, heavy rainfall can cause floods, damage and disruption. Recent years have already seen landslides in Scotland cause disruption and even claim lives.
Case study: Scottish landslides
Stonehaven trail derailment, 12 August 2020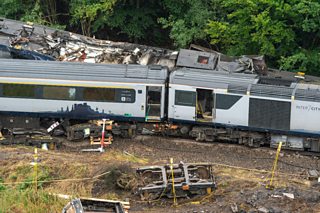 In August 2020 much of central and eastern Scotland experienced thunder storms and torrential rain. This led to localised flooding that deluged homes, disrupted travel, and caused power black outs.
The extreme weather also caused the death of three people when the 06.38 train from Aberdeen to Glasgow crashed into a landslide near Stonehaven.
The heavy rain had already caused flooding on the train lines in the area and the train was diverted on to an alternative route. Further along this line, the rain had weakened an embankment which had then collapsed and spilled over the train tracks. The train hit this material and was derailed.
After the crash, Network Rail, the organisation tasked with maintaining Britain's train tracks, acknowledged that climate change would make landslides more of a problem in the future.
Rest and Be Thankful landslides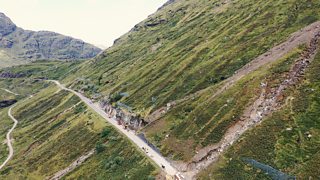 In September 2020, the Rest and Be Thankful stretch of the A83 road was blocked by around 1,000 tonnes of boulders and mud. In August 2020 the same stretch of road had been closed due to another landslide.
Over the years the route has been closed many times for the same reason. It was closed for 17 days in October 2007 and then again in September 2009, December 2011, August 2012, October 2013, October 2014, October 2015, October 2018, and twice in 2021.
The A83 is an essential link for communities such as Arrochar, Inveraray, Lochgilphead, and Campbeltown and the Kintyre peninsula. It is also a major route for tourists and this stretch of road can be used by thousands of cars every day.
When closed, travellers face a 59-mile detour that can cause increased traffic and detours on other roads. Closure also affects the towns reliant on the road for tourism.
To help keep the road open, £83 million has been spent on the route. This includes the installation of steel rockfall barriers and "catchpits" designed to stop boulders and mud from reaching the road.
In March 2021, the Scottish Government announced that a new road route would be built to bypass the Rest and Be Thankful. The exact path of the new route has yet to be announced.