Climate change and extreme weather
One effect of climate change is that incidents of extreme weather are becoming more common. This includes weather events such as:
heatwaves

droughts

wildfires

storms

flooding
Case study: wildfires
The summer of 2021 saw several areas in Europe, Asia and North America experience heatwaves that lead to severe problems.
In these areas, drought conditions dried out vegetation that provided the perfect fuel for wildfires. The lack of moisture or rain meant that, once the fires had taken hold, there was little to stop them spreading quickly over large areas.
As well as devastating huge areas, destroying homes, and endangering lives, huge forest fires release large amounts of carbon dioxide into the atmosphere.
Wildfires in Turkey and Greece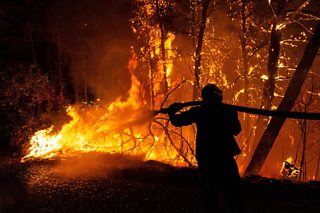 In July and August of 2021 a prolonged heatwave brought temperatures above 40 °C. This lead to the outbreak of widespread and catastrophic wildfires.
In Greece, wildfires spread across the island of Evia and on the mainland to the north and east of Athens. In some of the worst fires seen in Greece in decades, over 57,000 hectares of land was burnt, destroying homes and farmland. Two people have been reported dead and dozens have been hospitalised.
In Turkey, wildfires spread unchecked through large parts of the south of the country with key tourist destinations such as Marmaris coming under threat.
North American wildfires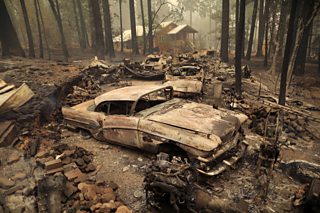 In the USA, Californian fire-fighters have had to tackle the second largest fire in the history of the state. Within a month the Dixie Fire had already devastated an area of land two and a half times the size of New York City.
This blaze was just one of over a hundred blazes in the country, with others spreading across the south and west.
In June 2021, western Canada experienced an unprecedented heatwave. For three days in a row record temperatures were recorded, reaching 49.6 °C. 486 deaths were recorded over five days in British Columbia alone, a 195% increase on the usual amount over that period.
It is believed likely that the significant increase in deaths reported is attributable to the extreme weather

British Columbia Chief Coroner, Lisa Lapointe